Advent prepares our hearts for the coming of the Light of the world, Jesus Christ.
This year, as we end a year of continued uncertainty and a longing to return "normal", let's be intentional about praying through the season. With God, there is hope. You do not have to journey through Advent alone. 
We have a plan:
We invite you to turn to prayer as your foundation. And we're making it easy for you. We have created a retreat in daily life that will provide a pause in one of the busiest seasons of life. For 29 days, starting on the first Sunday of Advent, November 28th and running through the Feast of the Holy Family on December 26th, we will walk with you in daily prayer.  
Through scripture, guided audio reflections, optional live community prayer, and prompts for reflection, we'll walk through these themes to prepare us to celebrate Christmas:  
Week 1: We Are Fully Seen
Week 2: We Leap in Divine Joy
Week 3: We Lean Into the Promise
Week 4: We Are Transformed by the Light
This unique online retreat, incorporating a variety of contemplative prayer methods, provides an individual plan for prayer done on your own schedule. This weekly prayer plan includes:
Guided Lectio Divina, a prayer method to prayerfully savor scripture
Suggested Scriptures with Reflection Questions  
Guided Ignatian Contemplation, a prayer method to place you within the scripture   
Guided Visio Divina, a prayer method of praying with an image  
Gathering the Graces, a method of reviewing your weekly prayer
Bonus:  
Weekly LIVE community prayer calls via Zoom, offered at two different times
Recorded Replay of the LIVE Zoom calls
Prayer library to help you dive deeper into the prayer methods used during the retreat to continue to develop and deepen your practice of prayer long after Advent ends
​Key Takeaways:
Accompaniment through Advent; You are Not Alone
An easy plan for you to follow to deepen your relationship with Jesus
Ground yourself in prayer during continued uncertainty & change
Your Retreat Team | Ignatian Ministries


Bringing together decades of ministry and lived experience of contemplative prayer, Stephanie Clouatre Davis, Becky Eldredge, Kathy Powell, and Charlotte Phillips know what it's like to make room for God in the busyness of real life.


We each bring our unique gifts to accompany you deeper in Christ this Advent. Come let us ground in prayer together!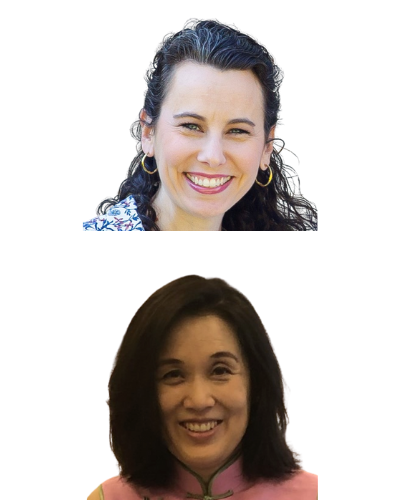 "With every online retreat I have done with Becky, I have been able to deepen my spirituality and cultivate meaningful prayer practices in my ever-changing, hectic schedule. Her methods and ease of communication make you completely forget that you're are doing an online retreat! I look forward to truly savoring this Advent season with Becky's guidance and prayer methods that I have come to love."
Heather Landry - Baton Rouge, Louisiana
"I love Becky's online retreats. They have allowed me to meet and share with people all over the USA that I would otherwise not have had the opportunity to meet. I enjoy the live meetings where we are able to share the various places God has shown [God's] presence. Sometimes it takes someone else to point out that God is there [with us]."
Jerri So - Taipei, Taiwan
Frequently Asked Questions
When does the retreat start and finish?
As soon as you register, you will receive a welcome email with access to the Getting Started module to prepare you for the retreat. The retreat officially starts on Sunday, November 28 and ends on Sunday, December 26. Each week's material will be available the Saturday prior. Please note that the content will be released according to Universal Time (UTC) rather than your personal time zone.
How does the retreat work?
This unique online retreat provides an individual plan for prayer, incorporating a variety of contemplative prayer methods. Each week includes a guide for prayer, with a daily guided prayer reflection or suggested scripture. This prayer time can happen according to your schedule. In the middle of the week, there is an opportunity for group prayer via Zoom. At the end of each week, there will be a pause to review the prayer of the week and opportunity for sharing on the Community Wall.
What is the expected time commitment for this retreat?
Plan to set aside 15-20 minutes for daily prayer and reflection. Though the retreat runs from November 28 - December 26, you will have access to the material until January 9.
What supplies will I need for this retreat?
Supplies needed for the retreat: Computer, tablet or smartphone, a prayer place, Bible, Journal, Weekly prayer guide (will be provided), a Binder/folder to keep your weekly prayer guides.
What if the cost is too much?
Just like all of the retreats that Becky offers, we do not want the financial aspect to keep you from attending. If you want to attend this retreat and your budget does not allow for it at this moment, please email us at [email protected]. We will get you a coupon code with an option to pay what you can.